Tuleja zaciskowa jest elementem przytrzymującym – rodzajem uchwytu, który tworzy kołnierz wokół trzymanego przedmiotu i wytwarza wokół niego silną siłę zaciskową. Może być stosowana do trzymania zarówno przedmiotu obrabianego jak i narzędzia.
Zewnętrzna tulejka zaciskowa jest tuleją posiadającą cylindryczną stronę wewnętrzną oraz stożkową stronę zewnętrzną. Tulejka może zostać zaciśnięta wokół pasującego stożka – wewnętrzna strona kurczy się do nieco mniejszej średnicy, pewnie zaciskając narzędzie lub obrabiany przedmiot. Osiąga się to najczęściej z tulejkami sprężystymi, wykonanymi ze stali sprężystej, posiadającymi jedno lub więcej nacięcie wzdłuż długości, co pozwala na rozszerzanie i kurczenie się tulejki. Alternatywą dla tej konstrukcji są tuleje posiadające kilka stożkowych stalowych płytek tworzących okrąg, trzymanych razem za pomocą elastycznego materiału (zwykle jest to naturalna lub syntetyczna guma). Marką tego typu tulejek zaciskowych są tuleje Jacobs Rubber-Flex. Bez względu na konstrukcję tulei, zasada jej funkcjonowania pozostaje ta sama: zaciskanie tulejki wokół narzędzia lub obrabianego przedmiotu.
Zastosowanie:
Woodworking
We frezarkach górnowrzecionowych (ręcznych lub stołowych) tulejka zaciskowa utrzymuje wiertło/frez/narzędzie na miejscu. W Stanach Zjednoczonych są to najczęściej narzędzia o chwytach 6.4 lub 12.7 mm, zaś w Europie najczęściej spotykane rozmiary to 6 lub 8 mm. Tulejka z zewnątrz ma kształt sześciokąta, co pozwala na jej dokręcanie lub odkręcanie za pomocą standardowego klucza.
Metalworking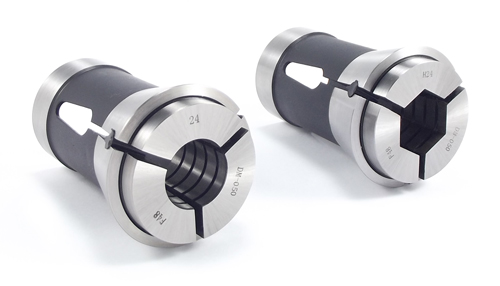 There are many types of collet used in the metalworking industry. Common industry-standard designs are R8 (internally threaded for mills) and 5C (usually externally threaded for lathes). There are also proprietary designs which only fit one manufacturer's equipment. Collets can range in holding capacity from zero to several inches in diameter. The most common type of collet grips a round bar or tool, but there are collets for square, hexagonal, and other shapes. In addition to the outside-holding collets, there are collets used for holding a part on its inside surface so that it can be machined on the outside surface (similar to an expanding mandrel). Furthermore, it is not uncommon for machinists to make a custom collet to hold any unusual size or shape of part. These are often called emergency collets (e-collets) or soft collets (from the fact that they are bought in a soft (unhardened) state and machined as needed). Yet another type of collet is a step collet which steps up to a larger diameter from the spindle and allows holding of larger workpieces. In use, the part to be held is inserted into the collet and then the collet is driven (using a nose cap) or drawn (using a drawbar) into the body which has a matching taper. When properly tightened, enough force is applied to securely clamp the workpiece or tool.
ER collets
System tulejek zaciskowych "ER", opracowany i opatentowany przez Rego-Fix w 1973 roku, jest najczęściej stosowanym systemem zaciskowym na świecie i obecnie dostępnym w asortymencie wielu firm na całym świecie. Standardowymi rozmiarami są ER-8, ER-11, ER-16, ER-20, ER-25, ER-32, ER-40 oraz ER-50. Nazwa "ER" pochodzi od istniejącej wcześniej tulejki "E" zmodyfikowanej przez firmę Rego-Fix, która dodała "R" od swojej nazwy. Liczba oznacza średnicę tulejki przy czole uchwytu podaną w milimetrach. Tulejki ER mają również zastosowanie w tokarkach do trzymania obrabianych przedmiotów.
R8 collets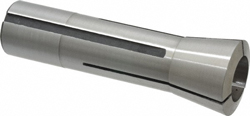 R8 collets were developed by Bridgeport Machines, Inc. for use in milling machines. Unusually, R8 collets fit into the machine taper itself (i.e. there is no separate chuck) and tools with integral R8 taper can also be directly fitted. R8 was developed to allow rapid tool changes and requires an exact match between collet and tool shank diameter.
R8 collets have a keyway to prevent rotation when fitting or removing, but it is the compressed taper and not the keyway that provides the driving force. Collets are compressed by a drawbar from behind, they are self releasing and tool changes can be automated.
5C collets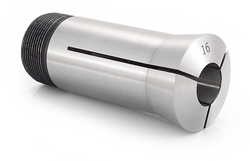 Unlike most other machine collet systems, 5C collets collets were developed primarily for work holding. Superficially similar to R8 collets, 5C collets have an external thread at the rear for drawing the collet closed and so work pieces may pass right through the collet and chuck (5C collets often also have an internal thread). Collets are also available to hold square stock. 5C collets have a limited closing range and so shank and collet diameters must be a close match.
Morse taper collets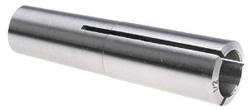 Modelarstwo i inne hobby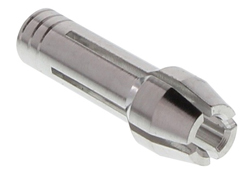 Wielu użytkownikom (hobbystom, grafikom, architektom, studentom itp.) znane są tulejki, będące częścią noży X-Acto i podobnych noży trzymających ostrze. Innym popularnym przykładem są tulejki trzymające części wymienne urządzeń Dremel i podobnych pilników obrotowych.